Hardscape Services for Royal Palm Beach Residents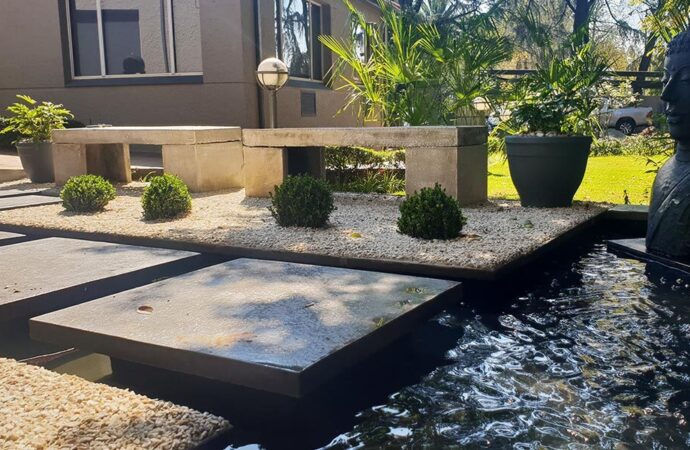 It takes more than just a beautiful interior design to make your Royal Palm Beach commercial property or home stand out in every corner, especially if you plan to spend a lot of time outdoors and have fun with your loved ones or friends. We encourage you to look beyond the usual elements and to think about how you can enhance your outdoor living space so everyone can come, eat, tell stories, and just bring a different feeling and experience to your property. This will allow you to enjoy your day with your family or friends without always relying on your indoors. At Wellington Hardscape Contractor Group, our team is here to help you with any design or request. We are happy to install pergolas, work with firepits, and other features that will allow you to enjoy every inch of your property.
Our work doesn't start on the project or construction itself. First, we want to get to know you and your preferences about the elements that you would like to see in your space, so we have a good idea of what you want to include right away or what you probably don't want, along with the ideas and visions you have.
This takes a lot of time and effort, even more than the construction or installation itself. We encourage you to share all details and information you have so that we can create a design that is perfect for you, as there is no such thing as the perfect design for everyone.
Landscape and hardscape should be customized for each client. We don't want to give you the same look as other homes or landscapes around the city unless this is exactly what you wish for with no additions—or maybe some. No matter how much work or time it takes, we want it to be unique and special for you in some way.
With that in mind, have any elements or features been considered by you? Is there something you aren't sure about? We can help, no matter what it may be or the decisions you're trying to make.
Request Our Services in Royal Palm Beach
You can reach us to request our residential hardscape services or maybe commercial ones. We will work with you to design and have the perfect outdoor living space and all the hardscape features you wish for right in place.
We offer a variety of services that can be tailored to your specific needs. These include pergolas, patios, driveways, walkways, and many other hardscape features.
Remember that our services are available to all residents and even in nearby areas and cities where we know some companies don't reach, but residents and people there would love to have someone they can rely on.
To request the service that you require, call or email us. You can provide all information and bring examples and designs to the conversation to receive a precise estimate, or visit our offices for a personal assessment and even schedule a visit for your property, so we go over the space where you need us to work.
Below is our list of additional services:
Here is a list of our services you can get at Wellington Hardscape Contractor Group:
---