Residential Hardscape Services for Wellington Homes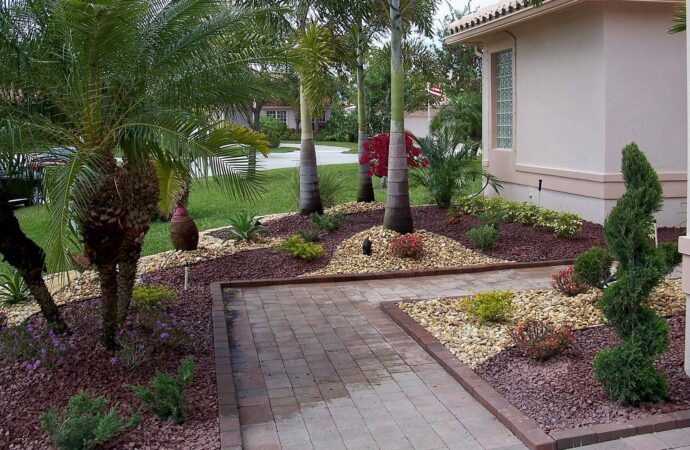 You will need to put in the effort and time to find a way to accommodate your wishes and create the outdoor space you desire. Still, if you ask us, it is always better to hire reputable and experienced contractors that can assist you throughout the process and handle it, so the best results are achieved. There are often limits on what you can do with your outdoors or to what you understand and how you can achieve it. Experienced professionals can assist you in this process and help you bring it all together. Wellington Hardscape Contractor Group offers residential hardscape services that allow you to have a team full of licensed contractors working on the project and ensuring you don't have to struggle to achieve the expected and desired result.
The hardscape is more challenging than the well-known softscape, which is often everything related to plants, trees, flowers, and the green features you see in most outdoors. Softscape, put simply, is about placing plants in the right places and creating harmony among all the soft elements that will bring the final landscape design in line and ensure you have a good aesthetical result.
Hardscape is a complex project requiring you to design and implement all elements and bring new materials to build the feature, which is the main aspect most people notice is different from softscape. If you don't know enough about the limitations of certain elements and aren't able to find the right people to assist you, this can be quite challenging. Some water features like streams or ponds are not recommended. Still, they are preferred by many homeowners who don't usually worry about actually finding people who can tackle the task and ensure the result.
Wellington Hardscape Contractor Group will manage all aspects of the process. Our team includes licensed contractors and hard workers that will make sure you have a beautiful outcome that doesn't negatively impact your property over the long and short term. We understand that homeowners want the best possible outdoor spaces. We are here to help you get through this process and to confirm what can be done to avoid any problems later.
Some spaces are smaller than others. It can be difficult to decide what should or shouldn't go in certain areas. We will guide you through each step to make sure you are not overwhelmed or disappointed with the end result.
How Homeowners Benefit from Our Service
We will work with you to review the entire process and assist in making decisions, designing spaces, and deciding what is best for your project. We will still be attentive to your needs and preferences, but we will also provide any suggestions or notes that you may need so that you won't regret bad decisions later.
Creating a list of all the things you would like in your space is essential. It is also important to identify what items are acceptable and what are not when working outdoors. A final and third list is also needed. This will let us know what features we can negotiate with you if they are incompatible with the overall design or are too expensive for your budget.
This will give our team a clear idea of what you want and don't want and how we can change some elements if needed. This also brings the opportunity for us to offer better support and guidance to ensure you aren't having problems while we work on your project, and you have to make some decisions during the construction or installation.
As you will learn, some hardscape features need additional components in order to work properly.
We understand that there are many things to do when it comes to your project and that you won't be able to think about every detail. We want to ensure that we fully understand your expectations for the final result so we can also help you in this struggle and journey, no matter what your worries are. 
Let us know if you are interested in residential hardscapes. We can also offer a free assessment of your property to help you visualize the project and give you an estimate to set the foundation for what you will need.
How Do We Proceed with the Service?
After we have received all details and gone through the complete list of items to be done before the contractors take action, planning begins, and decisions are made based on the request you place and what you want in all this.
It is crucial to have all of the information needed to plan and organize your work. This includes creating the hardscape feature or outdoor space you want us to work in.
The design will include an estimate of costs if you need to make any changes or decrease the costs based on how much you can afford or not. We are always open to hearing additional requirements, even if the project is already underway. If it's possible, we will let you know and work on adding or even removing it.
Our estimates often match what customers choose. We take into consideration all of the details we have discussed and any space that is available in our design for your space.
Our estimates are usually free, and you don't have to compromise if you aren't satisfied with the price or want to think about it. It is best to discuss your concerns with our team. We want to hear about your concerns so that we can fix them and work around what would work better for you. So, don't think it is a final option when we send you the estimate for the project.
We are always open to negotiations and will help you achieve the best possible result without causing financial hardship.
Keep in mind that we can work with specific requirements. You may already have an idea about what you want for your space. Sometimes you might not know what you want or need. We take the time to talk with you and discuss the options.
We will be there when you need us, and we will make sure that your experience is unforgettable.
Below is our list of additional services:
Here is a list of our services you can get at Wellington Hardscape Contractor Group:
---