Pergola and Patio Installation Services for Wellington Residents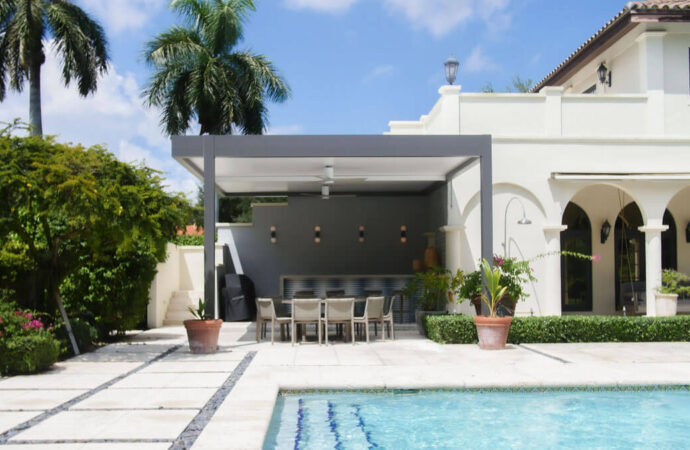 It is important to be careful about whom you hire to handle your pergolas and patios if these are the elements you wish for your outdoors. This will impact how long it lasts, as well as whether the design meets your expectations or not. It is not uncommon for "professionals" to get too involved in certain projects and forget what the client wants and needs. Others will be the opposite and always ignore that some recommendations and guidance should be provided to you during the process, so you don't regret the design or choices you want and make, respectively. Wellington Hardscape Contractor Group has been installing and building hardscape elements for over two decades. We want to make your outdoor space beautiful and allow you to spend time with your family by adding the perfect feature that will look not only stunning but also last many years.
Having the right tools and materials to create pergolas and patios is essential. Many homeowners feel pressured to buy the materials. However, we don't support this and prefer to work with the ones we can bring and include in the entire project and the estimate we give you for free once we have enough information to do so.
Our team will be there to help you through the entire process. We won't let you down, and we will allow you to make all the decisions while our team supports you with details and more information. To get the best result, you will need to choose the colors and materials you would like to see on your patio or pergola. Also, you must decide how you want us to approach the project in terms of time and how you would like our team to be in the area.
It is possible to make a list of all the things you would like to see in your pergola. If you have examples, we can also use them to help us adapt our design to your needs. It is important that you provide examples and insights into your design vision. Our team will be able to offer a better solution. We can adapt it to your needs and make sure that the design you envision is realized.
Why Do You Need Our Contractors?
Contractors are often overlooked and considered expensive people who come with certain services. However, contractors are responsible for ensuring that unique structures like patios and pergolas are built and placed correctly, won't fall during rains or storms, and will not collapse.
Pergolas don't have to be placed in a particular way but rather in the right way based on the place's topography and the design that wants to be obtained. Pergolas' appearance and design can vary depending on the location they are placed in and how the client requests them. It is important to understand how to make sure that your structure will withstand all weather conditions and be durable.
Pergolas can be made in many different designs. It is not easy to achieve a beautiful yet effective result. You can modify them to suit the needs you have based on your preferences or the requirements of your outdoor space. However, this must be done in accordance with the limitations and options of the area where the pergola will be installed.
Our pergola contractors are experts in the area and can help you blend in with your surroundings.
It is not about hiring people who are only good at taking money from you but rather having experts that will bring a different perspective and guarantee top results. Our hardscape contractors will make sure that every piece looks amazing in your outdoor space.
We don't want any piece of furniture to disrupt the overall design or landscape. We want it to be in harmony with the rest of the pieces, either existing or planned.
We put a lot of effort into the design and select the best materials to make sure you are happy. We are a leading company because of this:
We only use the best materials and tools.

Contractors with more than seven years of experience.

We must insure and properly equip them, which we do regardless of the particular contractor.

We work based on the client's requirements and needs, not our personal judgment and what we think is best or based on our preferences.
How Will Your Pergola Be Designed?
You first need to decide the material for your pergola and what type it will be. There are three options available when choosing the right pergola. These choices will impact the design and result and bring a different feeling that could change the entire landscape.
Many pergolas can be customized to your specifications in terms of size and color. To make pergolas last longer and to fit your needs, you can use paint or another material in addition to the main one for its installation.
Our goal is to help you choose the right material. The design you choose will often influence this decision. For example, wood will give you the exact same color as the standard but different tones depending upon the type of wood used.
Composite and aluminum are more adaptable than wood. You can change the color to make different looks. A composite can be made that is stronger than wood and will last longer as well.
The final option and pergola you choose are available to you, no matter your preferences.
Our landscape lighting service can add lighting to your pergola for night events or other occasions. This is done by professionals and can be included along the main design as part of the landscape.
Pergolas can be used in many ways. We can help you select the right pergola for your needs and focus on what you will get from having it built in specific ways.
You only need to call, email, or visit us. Wellington Hardscape Contractor Group is the right company to give you a great experience with the best hardscape feature.
We want you to be happy with the added feature. You can call us or send us an email to get the information you require and even obtain an estimate if you provide us with enough information. Then we will discuss the steps required to create the final design and get to work.
Below is our list of additional services:
Here is a list of our services you can get at Wellington Hardscape Contractor Group:
---