Expert Outdoor Patio Design & Installation Service in Wellington FL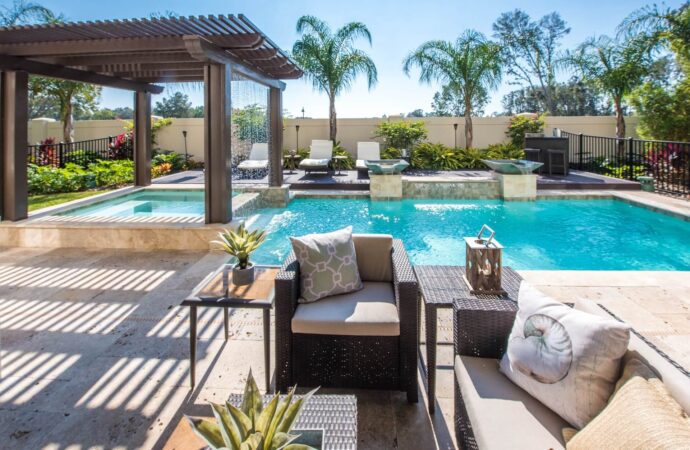 Did you know that there are many adaptions of a Patio? Whether it's roofed or open, it all comes down to your preference for the structure. Fun fact. Concrete Patios were all the rage during post-world war II. Are you thinking of building a Patio for your home? There are many kinds of patio surfaces for you to consider. How will you choose? Here's a tip. If you are tight on budget, you may want to consider having your Patio built with gravel. Gravel is the simplest way to go when building your outdoor patio. It is the most inexpensive material and is also the easiest to install as a Patio. Besides Gravel, there are so many other kinds of surfaces for you to choose from, such as concrete, pavement, clay bricks, and flagstones, or Tiles.
Are you feeling unsure of where to begin? Or maybe you do not believe in your designing skills? Do you find making decisions hard? Good news! We are here to extend our services to you! We are the Wellington Hardscape Contractor Group. Our team consists of trustworthy, responsible, and innovative individuals. Let us know how you envision your landscape to turn out! Provide us with your budget plan and we will see what we can work out. 
Our team will immediately work on design proposals for you. They will also describe to you the benefits or concept for each of the designs. Informing you of why they chose to design it in such a way, what story the design will tell. If you are not satisfied with any one of the design proposals, give us your feedback, and our team will go back and refine the design ideas according to your thoughts. 
Choose the design you would like to have implemented in your landscape! Our team will get started on your landscaping project as soon as the decision is made, and all parties agree on the continuity of the project!
What do you say? Want to have us on board your landscaping project? Reach out to us today and you will see why we are the best landscaping company in the State.  
Below is our list of additional services:
Here is a list of our services you can get at Wellington Hardscape Contractor Group:
---