Outdoor Firepit Installation Services for Wellington Residents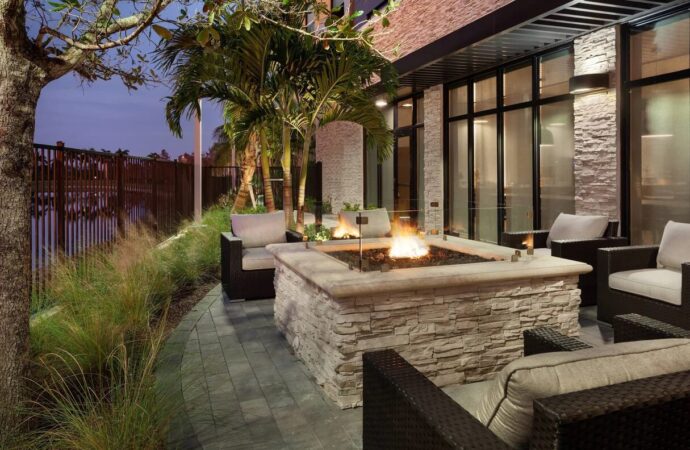 Homeowners often overlook outdoor firepits when they plan to add hardscape features to their outdoor spaces or want something new, yet they don't know what it could be out of the several options available. Many people, including business owners, focus on their outdoor furniture and whether they can build a pool deck or maybe something that requires even more effort, such as pergolas or working on the entire landscape by continuously adding more items. At Wellington Hardscape Contractor Group, we consider that firepits are a great way to create a relaxing atmosphere, as well as a place where you can cook and spend time with your loved ones without worrying about how cold the day, but mostly night is.
Outdoor fire pits are a wonderful way to tell stories with your family and just spend some time without worries. Let your visitors and children enjoy the fire pit's warmth and roast marshmallows. You will find many uses for this firepit, even when it is too dark or the opposite: brightness during the day yet a cold morning based on the weather during the day.
You will be adamant about having a firepit in your space if you consider the possibility of using it at any time since we know Florida's weather all too well. However, we promise it is quite an affordable and great addition that adds value to your property or outdoor living space in the process.
Make sure that they are correctly installed and built whatsoever. You could end up with dangerous features that can cause more damage than good, both in the long term and short term. Our contractors are specialists in this field, having been working with firepits for over ten years. They also know how to properly place them outside and ensure you're safe during and after their use.
Many firepits come pre-installed. There are many styles and features that will suit your needs. Sometimes the firepit must be built entirely from scratch. This will allow you to create a unique piece that matches your landscape or our assistance with other outdoor features and additions.
How Will Your Firepit Work?
Every firepit requires fuel. This doesn't change if they are placed indoors or outdoors. Keep in mind that some firepits require more fuel than others, so you will need to base your decision on which one you should get based on how much work you want to put into it. It will all depend on how big you want to build a fire with your fixture and what system was used to get the desired result.
Our team can design and build your entire firepit or system within a specified time limit. This will eliminate the risk of fire-related accidents, unneeded fuel, and excessive heat.
This will depend on the way your firepit is built and the type of fuel that you use. Many homeowners prefer the traditional wood-burning firepit as this outdoor firepit doesn't require gas connections. The wood can be used as a fuel source, and you can have more control over the amount of heat and fire itself that you want.
This is the most cost-effective option, as it takes less time and effort, and it is the easiest way to build your firepit. Simply place the wood and let the fire burn.
It isn't the most eco-friendly or comfortable firepit whatsoever. At Wellington Hardscape Contractor Group, our team recommends natural-gas firepits to those who aren't planning to cook or can work around installing one. Firepits are limited in their ability to provide heat and warmth. But these firepits are affordable and practical, which means you can spend more money on other elements and spaces, even if they have to rely on gas and connections.
It's a win-win situation. Depending on your specific needs, you don't have to do much maintenance.
There are firepits that can be tailored to your specific needs. Natural gas firepits look better than wood ones. They also have the most natural, rustic look in the long run.
You can use propane firepits and gel fuel firepits if you don't mind the natural look of firepits or, more specifically, if you don't mind quitting them. This is a popular option for many families as it doesn't emit smoke and can be used to treat or prevent allergies.
Each one is unique, but they all have the same basic connections except for the first option. However, if you have any questions or are unsure of the process, we will bring all the important details and factors so you can make a well-informed decision.
Which One Can We Build for You?
Any of the firepits can be installed and designed by our contractors. We don't need to be restricted to one type or design. We would love to learn about your preferences, so we can help you choose the best firepit for your location. Once that is done, we will get started on making it happen.
Both homeowners and commercial property owners can always count on us for advice and guidance. If you're unsure where to begin or how to make informed decisions, we can provide you with an estimate and a design along with all the information needed before you reach this phase.
To build your firepit, we can use stone, wood, or any other material. You can also choose one of our stock models, which are ready to be installed as soon as you get it. We can do a lot for you. You only need to contact us, email, or stop by.
Tell us what you want in a firepit and ask for it. Or, leave it to our hardscape contractors, who have over ten years of experience and use only the best materials to choose the most suitable option for your space and current or future landscape design.
It is important to blend it well with the rest of the outdoor features, especially the hardscape ones. Hence, we will take our time to ensure every detail is in place and won't disrupt the design you envision or already have.
Below is our list of additional services:
Here is a list of our services you can get at Wellington Hardscape Contractor Group:
---