Brick Pavers and Paving Services for Wellington Residents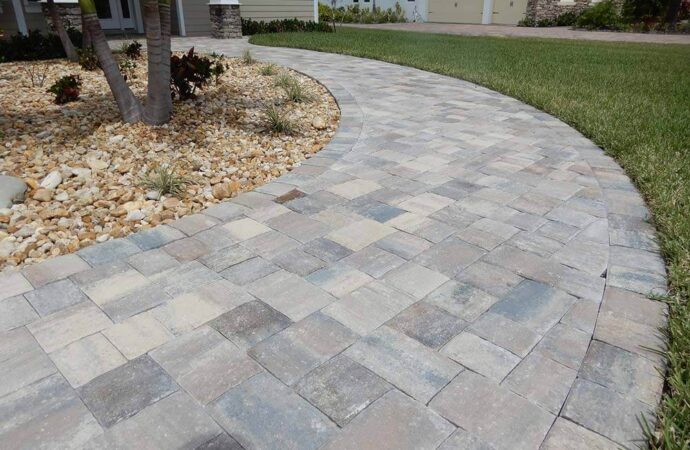 Pavers can be a great option when your driveways and walkways are being remodeled or renovated or when you're just trying to have surfaces and connections from one place to another that really stand out and offer a safe and stable result for everyone who will be using them. Perhaps pavers will enhance the look of your outdoor space and give it a new look, so you can consider this part of the aesthetical part you want to achieve while investing in those outdoor features. However, when working or choosing pavers, you will need reliable paving contractors that can place them and even use or make the best products and materials in the process, so longevity and durability are also guaranteed. At Wellington Hardscape Contractor Group, our goal is to give you a result you can admire and enjoy while also having safe paths and surfaces around your property.
You may not be familiar with pavers if you have focused on the regular surfaces and options so far. Put simply, they are used to make concrete, asphalt, and natural stone features and constructions. Although it can be confusing to refer to paving contractors by this name, it is clear and easily identifiable when you look at the context, as many people in the industry use the same word for both the contractors and items or stones themselves.
The beauty of pavers is that they last longer than regular concrete surfaces, and the same types of surfaces are made from all other materials. Concrete driveways are susceptible to cracking, as well as asphalt and stone ones that aren't in the form of the stone itself. Concrete pavers will last a lifetime due to the way you rely upon the stone, how each one is placed, and the structure they create, while contractors work on the right and perfect design based on the space and all the terrain conditions.
This is true for all elements built or installed with pavers, regardless of their particular material or size, and if you want to get the most out of your investment, the best option is to rely on qualified experts.
Paving has many benefits, which we could continue to list. However, if you want a hardscape that will last and look stunning and that won't cost you more in the long-term or short-term, you must hire qualified and experienced paving contractors, and this is where the benefits of pavers begin.
All Pavers Should Be Considered When Working on the Design
They are strong and can withstand all weather conditions, which is why they are favored over your regular options for driveways and walkways. They can perform well even during heavy rains and all the scorching sun in the city, bringing a result that will last, and not only for your entrances and paths but also for other elements that are made or built with stones or pavers.
The structure and hardscape will not need to be maintained or will require less effort and time than the majority. The final product should withstand any unexpected circumstances or conditions as well. When you decide to invest in hardscape, we recommend going for pavers as long as they are possible to use and affordable for the client; hence, why we will bring them to the table based on the design and request you have for us.
Pavers can be a great addition to your home. They can be used for walkways, driveways, or flooring in your backyards and patios. If installed correctly, you will have a strong and flexible interlocking pavement system that lasts more than a decade. It requires very little maintenance other than a few cleanings and washes during a year or two.
Your pavers will be a great investment. They are durable and can last a long time. They won't be as costly to replace when one is damaged or is out of place due to recurrent use and after years. The best option for functionality and aesthetics will be determined by how much foot traffic you give to the surface, and the paver in specific to be used will be decided with your preferences and needs in mind by our contractors.
There are many options for styles and designs, so leave it to us to introduce you to each one of them.
Many believe that a rustic, traditional surface is the best way to create a beautiful design on their property. But with so many options today, we're confident you can get a modern style with little effort and the right selection.
That being said, our company uses only the highest quality pavers. We will make pavers if we do not have them or are dissatisfied with the offerings of manufacturers and providers so we can guarantee quality and durability for your projects.
Every Solution Is Here
We can also perform repairs and maintenance, unlike other paving companies and contractors in the state or nearby areas. Even though most clients call us to get a few contractors to do their installations and constructions, we are pleased to be the only company in Florida that offers every possible solution to hardscaping design, including the repairs they rarely need but are essential in every way.
Although they aren't necessary in all cases, it is important to maintain your paver and keep it clean. This will ensure that your landscape lasts for many years without any problems.
Every homeowner, resident, or business can get our help with driveways, walkways, and other surface issues. It doesn't matter which pavers they have or who installed them.
We want you to have beautiful, durable pavers that last many years. We offer a variety of services to help you achieve this goal:
Deep power washing, joint sand removal

As needed, repairs and joint replacements can be performed to ensure pavers work well.

Use light acid cleaning when needed.

Sealing, so pieces don't split or crack.
Leave it to the professionals. We are available to help you if you just decide to call us or send an email to our team in Wellington.
Below is our list of additional services:
Here is a list of our services you can get at Wellington Hardscape Contractor Group:
---